Super Eagles Camp Opens in Texas for Mexico, Venezuela Friendlies
The Super Eagles will commence training today in Dallas, Texas ahead of the international friendly matches against Mexico and Venezuela.
The contingent landed in the US early this morning and will have their first training today.
New Super Eagles coach Jose Peseiro has already joined the team with his assistants.
Other technical crew already with the team in the US include: Finidi George(1st Asst. Coach),Usman Abdallah(3rd Asst. Coach),Ike Shorunmu (Goalkeepers Trainer),Salisu Yusuf(2nd Asst. Coach), Maykel Moreira(Fitness Coach),Acacio Santos(Asst. Coach),Vitor Hugo(Analyst),Eboboritse Uwejamomere (Analyst).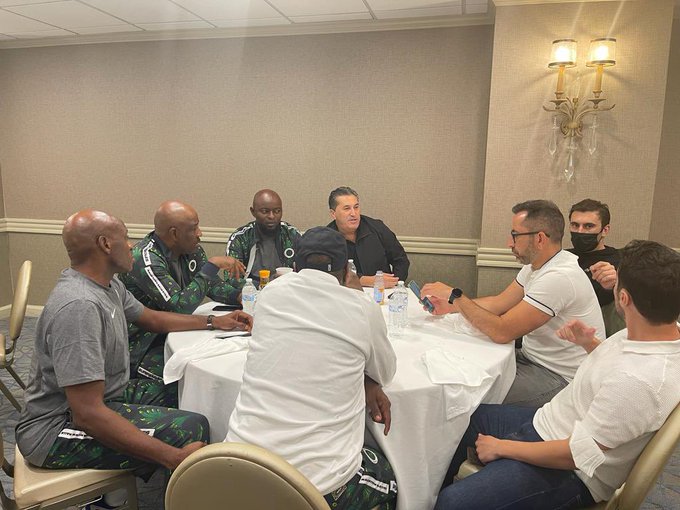 13 players in Camp: Adewale(Akwa United);Olorunleke (Enyimba FC), Buhari(Plateau United),Madu (Rivers United),Rafiu (Rivers United),Mbaoma (Enyimba FC), Sanni (Katsina United),Bello( Akwa United), Ola Aina, Semi Ajayi, William Ekong, Moses Simon and Alex Iwobi.
The Eagles will tango with the El Tri at the AT & T Stadium in Dallas on Saturday, May 28 before flying to New Jersey to confront Ecuador at the Red Bull Arena in Harrison on Thursday, June 2.
The Super Eagles will have their first training session at 6pm (Dallas,Texas time) on Thursday.
| # | Team | MP | W | D | L | F | A | G | P |
| --- | --- | --- | --- | --- | --- | --- | --- | --- | --- |
| 1 | AFC Bournemouth | 0 | 0 | 0 | 0 | 0 | 0 | +0 | 0 |
| 2 | Arsenal | 0 | 0 | 0 | 0 | 0 | 0 | +0 | 0 |
| 3 | Aston Villa | 0 | 0 | 0 | 0 | 0 | 0 | +0 | 0 |
| 4 | Brentford | 0 | 0 | 0 | 0 | 0 | 0 | +0 | 0 |
| 5 | Brighton & Hov… | 0 | 0 | 0 | 0 | 0 | 0 | +0 | 0 |
| 6 | Chelsea | 0 | 0 | 0 | 0 | 0 | 0 | +0 | 0 |
| 7 | Crystal Palace | 0 | 0 | 0 | 0 | 0 | 0 | +0 | 0 |
| 8 | Everton | 0 | 0 | 0 | 0 | 0 | 0 | +0 | 0 |
| 9 | Fulham | 0 | 0 | 0 | 0 | 0 | 0 | +0 | 0 |
| 10 | Leeds United | 0 | 0 | 0 | 0 | 0 | 0 | +0 | 0 |
| 11 | Leicester City | 0 | 0 | 0 | 0 | 0 | 0 | +0 | 0 |
| 12 | Liverpool | 0 | 0 | 0 | 0 | 0 | 0 | +0 | 0 |
| 13 | Manchester City | 0 | 0 | 0 | 0 | 0 | 0 | +0 | 0 |
| 14 | Manchester United | 0 | 0 | 0 | 0 | 0 | 0 | +0 | 0 |
| 15 | Newcastle United | 0 | 0 | 0 | 0 | 0 | 0 | +0 | 0 |
| 16 | Nottingham Forest | 0 | 0 | 0 | 0 | 0 | 0 | +0 | 0 |
| 17 | Southampton | 0 | 0 | 0 | 0 | 0 | 0 | +0 | 0 |
| 18 | Tottenham Hotspur | 0 | 0 | 0 | 0 | 0 | 0 | +0 | 0 |
| 19 | West Ham United | 0 | 0 | 0 | 0 | 0 | 0 | +0 | 0 |
| 20 | Wolverhampton Wanderers | 0 | 0 | 0 | 0 | 0 | 0 | +0 | 0 |