Lukaku Complete Inter Switch, Other Transfer News
Sadio Mane has joined Bayern Munich from Liverpool until 2025. The Senegalese international was unveiled today after completing his medicals which commenced yesterday.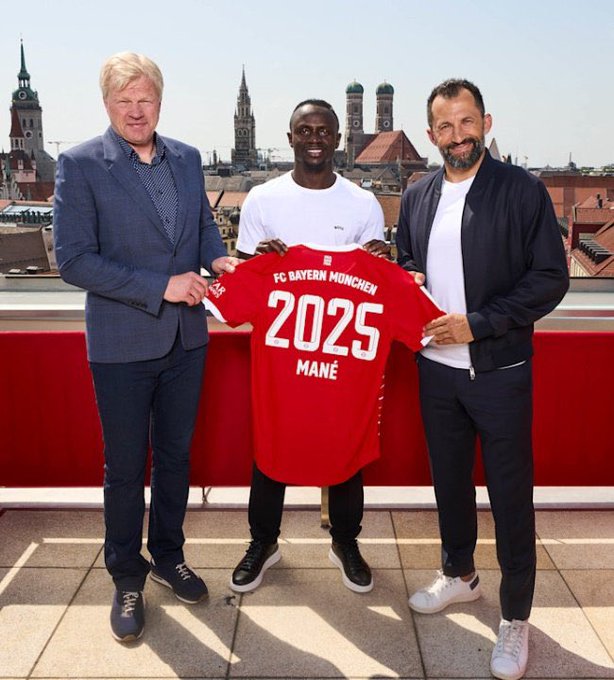 That is according to Sky Sports, who report that the Reds and Bayern have reached a £35million deal.
Mane is likely to replace star man Robert Lewandowski, who wants to leave the German champions and join Barcelona.
The winger joined Liverpool from Southampton in 2016 and amassed a total of 120 and 48 assists in 269 matches
Arsenal's Raphinha offer
Arsenal have unveiled their new signing Fabio Vieira after completing a move from FC Porto. Vieira had an excellent 2021/22 season, contributing six goals and 14 assists in just 1329 minutes. The 22-year-old averaged a goal contribution every 66.45 minutes. It is a smaller sample size, but it underlines his quality in the final third. Arsenal are signing him for his potential more than his current ability. However, he should be able to make an immediate impact and offer competition to the attacking midfield positions.
Arsenal made a first formal offer for Leeds star Rphinha that was rejected but their interest remains strong, according to The Athletic reporter David Ornstein.
Ornstein tweeted: "Arsenal made 1st formal offer to Leeds for Raphinha last night.
"While it fell well below #LUFC valuation & has now been rejected, interest remains strong.
"May be a long/difficult process due to competition but #AFC determined to sign 25yo"
Newcastle sign Pope
Newcastle have agreed a deal to sign Burnley goalkeeper Nick Pope, according to Sky Sports.
Pope agreed personal terms with the Magpies yesterday and a medical is set to be scheduled.
This marks the Toon's first signing of the summer and poses as quite a statement.
Eddie Howe wants to start building a strong Premier League candidate following last year's Saudi-led takeover
The Curva Nord were furious at the nature of Lukaku's departure 12 months ago. They wrote at the time: "Despite the fact we protected you like a son, like one of us, you too proved yourself to be just like all the rest, going to your knees for money."
Addressing fellow supporters now, Curva Nord have urged fans not to "run and drool" after him – instead claiming that he will have to earn their affection back with "humility and sweat".
They wrote: "Curva Nord supports Inter and will not make any objection to the player (despite last summer's behaviour). Given this no one should go to welcome him with scarves or banners of the Curva or of the groups that compose it.
"Everything that will eventually be done towards him in the future will have to earn it on the pitch with humility and sweat …
"He was supported (and treated) like a King, now he is one like many others."
| # | Team | MP | W | D | L | F | A | G | P |
| --- | --- | --- | --- | --- | --- | --- | --- | --- | --- |
| 1 | AFC Bournemouth | 0 | 0 | 0 | 0 | 0 | 0 | +0 | 0 |
| 2 | Arsenal | 0 | 0 | 0 | 0 | 0 | 0 | +0 | 0 |
| 3 | Aston Villa | 0 | 0 | 0 | 0 | 0 | 0 | +0 | 0 |
| 4 | Brentford | 0 | 0 | 0 | 0 | 0 | 0 | +0 | 0 |
| 5 | Brighton & Hov… | 0 | 0 | 0 | 0 | 0 | 0 | +0 | 0 |
| 6 | Chelsea | 0 | 0 | 0 | 0 | 0 | 0 | +0 | 0 |
| 7 | Crystal Palace | 0 | 0 | 0 | 0 | 0 | 0 | +0 | 0 |
| 8 | Everton | 0 | 0 | 0 | 0 | 0 | 0 | +0 | 0 |
| 9 | Fulham | 0 | 0 | 0 | 0 | 0 | 0 | +0 | 0 |
| 10 | Leeds United | 0 | 0 | 0 | 0 | 0 | 0 | +0 | 0 |
| 11 | Leicester City | 0 | 0 | 0 | 0 | 0 | 0 | +0 | 0 |
| 12 | Liverpool | 0 | 0 | 0 | 0 | 0 | 0 | +0 | 0 |
| 13 | Manchester City | 0 | 0 | 0 | 0 | 0 | 0 | +0 | 0 |
| 14 | Manchester United | 0 | 0 | 0 | 0 | 0 | 0 | +0 | 0 |
| 15 | Newcastle United | 0 | 0 | 0 | 0 | 0 | 0 | +0 | 0 |
| 16 | Nottingham Forest | 0 | 0 | 0 | 0 | 0 | 0 | +0 | 0 |
| 17 | Southampton | 0 | 0 | 0 | 0 | 0 | 0 | +0 | 0 |
| 18 | Tottenham Hotspur | 0 | 0 | 0 | 0 | 0 | 0 | +0 | 0 |
| 19 | West Ham United | 0 | 0 | 0 | 0 | 0 | 0 | +0 | 0 |
| 20 | Wolverhampton Wanderers | 0 | 0 | 0 | 0 | 0 | 0 | +0 | 0 |