Nigeria In Intensive Preparation Ahead of 25th Africa Men Handball Championship
. —-Grouped Alongside Tunisia And Cape Verde In Group C.
The Nigeria Senior National Handball Male team The Golden Arrows are presently undergoing intensive training camp in Abuja ahead of the 25th Africa Men Handball Championship.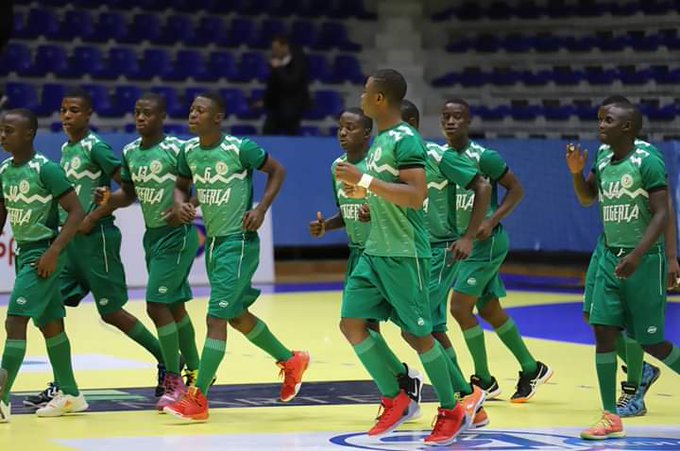 The 25th edition of the African Men's Handball Championship, which will hold in Egypt from 9 to 19 July 2022, will also serve as the the African qualifying tournament for the 2023 World Men's Handball Championship in Poland and Sweden.
It was originally suppose to hold in January 2022 but was postponed after the Confederation of Africa Handball (CAHB) received series of protests from some countries after the initial draw grouping.
To this end, @Handballnigeria invited 26 players made up of players of top teams in the @prudent_energy Handball Premier League &foreign players who are sweating it in a close camping at the Agunyi Ironsi Cantonment in Abuja under the tutelage Coach Rafiu Bala&Coach Solomon Yola
Coach Solomon Yola said the players are responding to training and will do everything humanly possible to ensure they represent Nigeria with flying colours at the championship.
Nigeria is in drawn in Group C alongside Tunisia and Cape Verde and will play their first match against Tunisia in their first match against on July 11 and Cape Verde on July 12.
Nigeria has participated in eleven editions of the Africa Men Handball Nations with their best outing recorded in the 1998 edition held in South Africa wherein they finished 4th after losing to Egypt 35-26.
PROVISIONAL LIST OF 25 PLAYERS FOR SENIOR NIGERIA NATIONAL CAMP (Gk) 1: Oladunoye Adamoulugbe (Police Machine) 2: Micheal Solomon Agbaji ( 3: Okwor Obinna (Confluence Stars) 4: Abbas Mohammed ( Niger United 5: Bature Sanni ( Kano Pillars)
PIVOT 6:Stephen Sesugh (Kano Pillars) 7: Dele Kelvin ( Niger United 8: Joseph Igwekere (Sokoto Rima) CENTER BACK 9: Obinna Patrick ( 10:Ibrahim Dikko (Kano Pillars 11:Emeka Adigwe ( Flowers of Benin Republic) 12:Aminu Aliyu ( Niger United? 13:Atabo Abubakar ( Safety Shooters)
LEFT BACK 14:Chris Ogendengbe (Kano Pillars) 15:Kingsley Okubuike (Flowers of Benin Republic) 16:Anthony Agada (Confluence Stars) 17: Owolabi Yaya ( Tojemarine) 18:Odeh Gbawun (Niger United) RIGHT BACK 19:Obinna Anih (Israel) 20:Rotibi Gbenga ( Morocco)
RIGHT WING 21:Faruq Yusuf ( Lomza Vive Kielce, Poland) 22:Gbenga Cole (Morocco) 23:Osamwonyi Matthew (Kano Pillars) LEFT-WING 24:Ana's Mohammed ( Niger United) 25:Aminu Chris (Kano Pillars 26:Andrew Ojo (Kano Pillars)
Groups for the 25th Africa Men Handball Championship
Group A Egypt Morocco Cameroon
Group B Algeria Gabon Guinea Kenya
Group C Tunisia Cape Verde Nigeria Group
D Angola D.R Congo Senegal Zambia
| # | Team | MP | W | D | L | F | A | G | P |
| --- | --- | --- | --- | --- | --- | --- | --- | --- | --- |
| 1 | AFC Bournemouth | 0 | 0 | 0 | 0 | 0 | 0 | +0 | 0 |
| 2 | Arsenal | 0 | 0 | 0 | 0 | 0 | 0 | +0 | 0 |
| 3 | Aston Villa | 0 | 0 | 0 | 0 | 0 | 0 | +0 | 0 |
| 4 | Brentford | 0 | 0 | 0 | 0 | 0 | 0 | +0 | 0 |
| 5 | Brighton & Hov… | 0 | 0 | 0 | 0 | 0 | 0 | +0 | 0 |
| 6 | Chelsea | 0 | 0 | 0 | 0 | 0 | 0 | +0 | 0 |
| 7 | Crystal Palace | 0 | 0 | 0 | 0 | 0 | 0 | +0 | 0 |
| 8 | Everton | 0 | 0 | 0 | 0 | 0 | 0 | +0 | 0 |
| 9 | Fulham | 0 | 0 | 0 | 0 | 0 | 0 | +0 | 0 |
| 10 | Leeds United | 0 | 0 | 0 | 0 | 0 | 0 | +0 | 0 |
| 11 | Leicester City | 0 | 0 | 0 | 0 | 0 | 0 | +0 | 0 |
| 12 | Liverpool | 0 | 0 | 0 | 0 | 0 | 0 | +0 | 0 |
| 13 | Manchester City | 0 | 0 | 0 | 0 | 0 | 0 | +0 | 0 |
| 14 | Manchester United | 0 | 0 | 0 | 0 | 0 | 0 | +0 | 0 |
| 15 | Newcastle United | 0 | 0 | 0 | 0 | 0 | 0 | +0 | 0 |
| 16 | Nottingham Forest | 0 | 0 | 0 | 0 | 0 | 0 | +0 | 0 |
| 17 | Southampton | 0 | 0 | 0 | 0 | 0 | 0 | +0 | 0 |
| 18 | Tottenham Hotspur | 0 | 0 | 0 | 0 | 0 | 0 | +0 | 0 |
| 19 | West Ham United | 0 | 0 | 0 | 0 | 0 | 0 | +0 | 0 |
| 20 | Wolverhampton Wanderers | 0 | 0 | 0 | 0 | 0 | 0 | +0 | 0 |